Dear guests of the Kaiser-Friedrich-Therme,
the Kaiser-Friedrich-Therme is open including the saunas and steam baths. A three-shift operation is planned for the visit of the Therme. The reservation of e-tickets is urgently required. These can be booked via www.mattiaquacard.de. The 2G Plus rule applies.
To visit spas and indoor pools, guests must be either fully vaccinated or recovered as of Sun. Jan. 09 and also provide proof of a negative antigen test no older than 24 hours. The proof of a booster vaccination replaces the negative antigen test proof. For persons who cannot be vaccinated for medical reasons (medical certificate required), proof of antigen testing is still sufficient. A corresponding negative proof as well as a valid identification document are absolutely necessary and must be shown at the entrance. Mouth and nose protection must be worn from the entrance to the bathing area.
The number of visitors in the spa at any one time is limited to 40 people per shift, with one shift lasting 3.5 hours. Changing rooms and lockers are available in sufficient number. The use of showers will be limited.
Infusions, including wagging, will be available in the sauna cabins. Tuesdays will be ladies sauna day as usual. Applications can also be booked within the selected shift. The gastronomic facilities will be open in the usual manner.
The Kaiser-Friedrich-Therme is open from Monday to Sunday. Visitor shifts extend daily from 10:00-13:30, 14:00-17:30 and 18:00-21:30. The intermediate times are used for cleaning and disinfection purposes.
The food and drink at the Quellenbar is delicious and easy on the eye.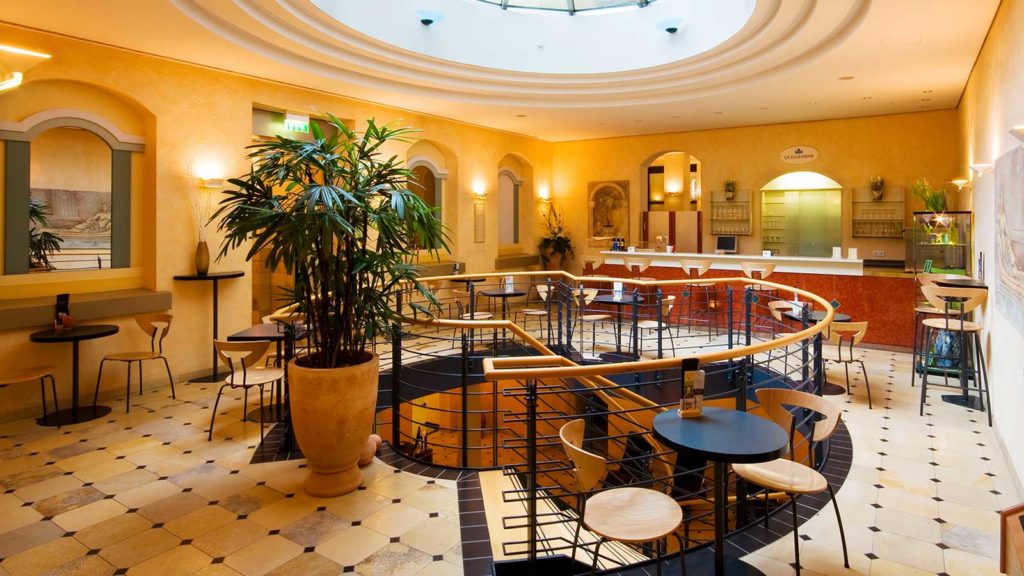 You can quickly lift your spirits with a pilsener, wheat beer, fruit juice or refreshing mineral water. You can also choose from various coffee specialities.
If you're just feeling a little peckish, there are plenty of light snacks, including freshly baked pretzels with spicy cream cheese and delicious croissants. Everything is prepared freshly by our employees every day under the glass dome with a clear view of Wiesbaden's sky.
By the way: You can make convenient and simple cashless payments with our chip coins. You can find more information via the following link: Admission fees.