Dear guests of the Kaiser-Friedrich-Therme,
With the announcement of the gradual opening of the outdoor pools, the requests for the opening of the Kaiser-Friedrich-Therme are also increasing. Due to the structural conditions, the generally applicable regulations allow us to accommodate only 30 guests at a time for the entire thermal baths. This would not meet the demand at any point and is out of proportion from our point of view. We ask for your understanding and hope to be able to inform you soon about news regarding an opening of "your" Kaiser-Friedrich-Therme.
The food and drink at the Quellenbar is delicious and easy on the eye.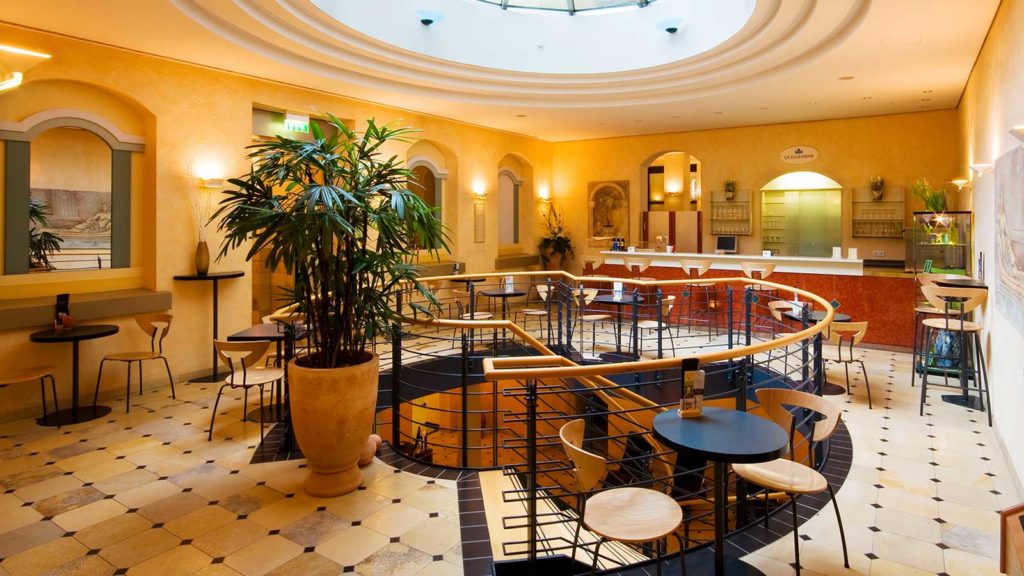 You can quickly lift your spirits with a pilsener, wheat beer, fruit juice or refreshing mineral water. You can also choose from various coffee specialities.
If you're just feeling a little peckish, there are plenty of light snacks, including freshly baked pretzels with spicy cream cheese and delicious croissants. Everything is prepared freshly by our employees every day under the glass dome with a clear view of Wiesbaden's sky.
By the way: You can make convenient and simple cashless payments with our chip coins. You can find more information via the following link: Admission fees.